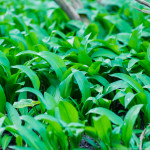 It has to be wild garlic in April, I really can't think of anything that sums up the start of spring better than those first shoots of the pungent, flavoursome leaf.
The uses for wild garlic are many and varied but my favourite has to be wild garlic pesto, (see the recipe below) mixed with mayonnaise on a chicken and avocado sandwich or for a classic yet simple pasta dish. This year however I have made wild garlic pesto and red pepper rolls and used the leaves for a wild garlic, bacon and thyme stuffing which is equally good with pork or chicken.
Wild garlic is easy to forage and is also readily available online from specialist food suppliers.
RECIPE
150g wild garlic leaves, washed and de-stalked
85g coarse grated Parmesan
100g toasted pine nuts
Maldon salt and black pepper
Lemon juice to taste
Arbequina olive oil to consistency
Place the wild garlic, Parmesan and pine nuts in a blender and pulse until roughly blended. Pulse in enough olive oil to give a paste that still has texture and just runs off a spoon. Season with salt, pepper and lemon juice.
NOTE At the start of the wild garlic season the leaves are often stronger so you may need a reduced quantity.