With over 20 years experience in the catering industry, I am well placed to help with menu development, new product development, teaching, mentoring, kitchen design, etc.
I've achieved a number of accolades to my name over the years including a Michelin star held for five years, 3 AA rosettes held for 8 years and a score of 5 in the Good Food Guide, all awarded during the last twelve years spent running my own restaurant, Sienna, in Dorchester. During this period, my role grew to include various consultancy projects for food producers, suppliers and local government.
The aim with all my consultancy roles is to build a long-term relationship that is about helping you to achieve your goals.
I've also built up an invaluable list of contacts that include regional and national food suppliers, equipment suppliers, wine and beverage specialists, interior designers, photographers, web designers and marketing specialists, all of whom can add to the value of the consultancy service.
Having owned & run a highly successful restaurant for many years, I can focus on the complete picture, being fully aware from my own experiences the relationship between all sides of a catering business.
I've also been responsible for the PR, social media and photography for Sienna over the last few years. Again, this knowledge along with a strong contacts list can be a valuable part of the consultancy process.
To see examples of my photography, please visit the Galleries on the Photography page.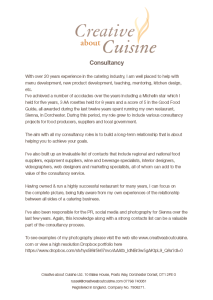 Click the image to the left to see my consultancy White Paper which has a special offer for Dorset Food and Drink Members
Previous clients include;
Blackacre are premium free range egg producers who supply hen, duck and quail eggs for the retail and wholesale markets. I have worked extensively with Blackacre over the past few years primarily developing recipes for their website but also demonstrating at shows and promoting the business via Twitter, magazine pieces and blog posts.
We've worked with Russell for over 3 years and not only does he make the best chocolates, mince pies and cake in the business, which we've been lucky enough to enjoy at our meetings, he has also achieved some pretty incredible things with the humble egg!  Nothing is too much trouble for Russell.  From sitting on a wall surrounded by our inquisitive hens to demoing at the Royal Bath & West Show and meticulously creating delicious recipes for our website, we've loved working with Russell and wish him all the very best in this new and exciting venture. Dan and Briony Wood - Blackacre Eggs
Mediteria are speciality Spanish food importers who I've worked with for several years, evaluating and testing new products to introduce to their range.
Managing Director Scott Wilson was looking to introduce high quality couverture chocolate to Mediteria's product portfolio. My role was to evaluate samples and then hold a workshop for Scott and some of his staff, comparing the chosen range from Chocovic with other brands in the UK market. I developed sample recipes to demonstrate the complex flavour profiles and performance of the various chocolates within the range.
This consultancy project is continually ongoing and further roles have included the full evaluation of vinegars, vanilla and dried fruits, which have all been successfully added to their product offering.
Russell has been a major contributory factor to the product development of Mediteria. We trust his palate completely, and his open and honest approach to product evaluation is a real asset to us. Initially we started with chocolate couvertures but the success of that project has lead us to use Russell for several other initiatives such as our extensive range of vinegars, dried fruits and nuts, and most recently our premium range of vanilla pods and products. All these have extended and expanded our premium range which has allowed us to access new market areas.  The result has been phenomenal growth in a market that has shown decline by our competitors.Scott Wilson - Managing Director of Mediteria
The Staff Canteen is a hugely valuable resource for the catering industry and I have contributed recipes for the website, demonstrated at The Staff Canteen live and filmed instructional videos for Mark over the last five years.
I have known Russell for over 5-years, in that time he has always been pro-active in working with us, giving up large amounts of his time in doing so. He has invested greatly in the local area food scene, through his commitment to the restaurant, and training through the colleges and students. He is real pleasure to work with, is professional, easy to get along with, and nothing is ever too much trouble, whilst sad to see the closure of Sienna, I have no doubt Russell will be a huge success in his new chapter, and a huge asset to whoever he works with in the future.Mark Morris - Managing Director of The Staff Canteen

If your restaurant is looking to be supplied with award winning meat from Walter Rose & Son then call 01380 722335 or visit www.walterroseandson.co.uk