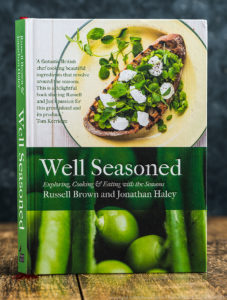 As you can imagine, the publication of Well Seasoned has been hugely exciting but a little daunting at the same time! Like anything that you commit a large amount of time and effort to, and then share with other people, there is always a bit of you that is worried about how it will be received. Fortunately, because of all the effort a whole host of people put into the project, it is going down a storm!
We are getting some great press coverage and some very pleasing comments about the book.
"Evocative, informative and stuffed full of the kind of food I actually want to eat."
Felicity Cloake
"A fab new book which demonstrates how to make the most of the seasonal native larder."
Food Magazine
"Brown and Haley have created a rather interesting call to arms. One can't help but want to follow and celebrate with the foodie duo as each new month dawns"
The Field
"A recipe book so practical, you'll use it for decades, yet so beautiful you want it on your coffee table as well as the kitchen counter."
West
"This doesn't just encourage you to cook with seasonal British produce, it'll also inspire you to get outside, whether it is foraging for elderflowers in May or wild swimming in July. Smart recipes such as beer braised beef cheeks make this perfect for weekend cooking."
BBC Good Food
Amazing comments from so many publications and that's without getting into the social media coverage! Do follow us on Instagram and Twitter to keep up to date with competitions, demonstrations, events, etc.
Jon and I will also be attending the Fowey Festival of Arts and Literature in May so if you want to hear us talk about Well Seasoned you can get tickets here.
How exciting is this! The first copies of Well Seasoned have arrived and here is a little preview. There is still time to take advantage of our pre-order offer or you can order direct from Amazon.

Sign up to Russell's Newsletter!
Whether you have a passion for food, a desire to learn, are an industry professional, the owner of a catering business or a lover of writing and photography I hope my site is somewhere you will want to explore. Creative about Cuisine is a showcase for my consultancy, writing, teaching and photography. It is however much more than that! Diary dates for forthcoming events such as demonstrations and cookery courses, regular blogs not just by me but a fantastic collection of guest bloggers and video all feature. Make yourself a coffee or pour a glass of wine and take a look around, let me know your thoughts and I will do my best to make Creative about Cuisine somewhere to return to time and again.