Books have always been a satisfyingly significant part of my life. To get lost in a great story, to learn, to switch off, to revel in the physical act of opening a new book for the first time; this is real enjoyment. That moment when you gently run your thumb down the spine to perfectly fold back the first page is incomparable. It is however the gaining of information that is the real buzz. The sale of a book is commercial transaction, but someone has still given generously of their knowledge and talent and allowed you, the reader, to share that.
All media have had a huge impact on my cooking career. Pierre Koffmann's book 'La Tante Claire' first inspired me to cook seriously at home, which ultimately led to a career change. The Caterer and Hotelkeeper (now The Caterer), Thomas Keller's 'The French Laundry,' video through websites such as The Staff Canteen; all have motivated, challenged and increased my knowledge over the years.
I seriously admire anyone who gets a book into print (I am working on it!), but in the meantime I will do some periodic book reviews on the blog. Several of the guest bloggers have books just out or about to be published and I am sure they will feature here soon. In the meantime, have a look at their profiles and follow the links to see what they are up to.

The French Laundry, La Tante Claire

,
THE CHEF'S DIRECTORY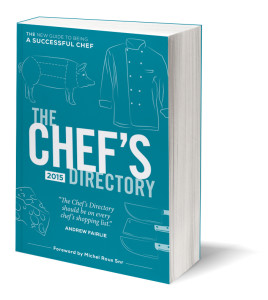 Every now and again, a book, video or perhaps a new magazine makes you sit up and really take notice. The Chef's Directory, compiled by Chandos Elletson, is just one such publication.
I met Chandos for the first time a couple of years ago when he came to Sienna to film some videos about my cooking for Cool Cucumber TV.
Previously I had read some of Chandos' work in Restaurant Magazine when it launched. I believe he was billed as Editor-at-large and then, as now, his passion and knowledge really came across.
I know from talking to Chandos that The Chef's Directory has been a real mission for him and as soon as you pick up a copy and flick through you will know why. This is an incredible volume just packed with information.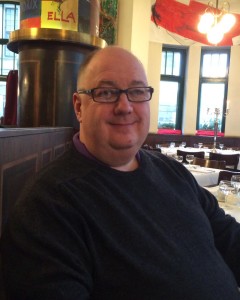 Before the launch of the book, Chandos had forwarded the sample pages with the request for a quote about the book to use in his publicity campaign. Even looking at the samples it was clear that this was something quite different. It isn't recipe book, it's not a 'how to' manual, and it's not a 'who's who' of Michelin star chefs, although plenty are mentioned. It is a book that covers all areas of the industry from colleges to contract catering companies.
The chapter headings include Working as a chef, Ingredients, Equipment, Education, Networking and The Media. When I read the sample it was probably these last two that really caught my eye. A big learning curve for me over the last five years has been the importance of both these areas to a chef. I was a reluctant convert to Twitter, (hard to believe I know), and always reticent about the idea of networking, but it is something I have learnt to embrace and the launch of Creative about Cuisine wouldn't have been feasible without it.
I think the major attributes of this directory are its wide range and the fact that it has a modern take on our industry. There are very few photographs but the book is beautifully illustrated. You won't necessarily read it from cover to cover but as reference tool, an insight into the industry and something to dip into for some inspirational stories I think it will be invaluable to anyone who is in or is interested in the industry.
Michel Roux sums it up better than I can in the foreword, "The Chef's Directory is an indispensable, life-changing reference for the aspiring, student or career chef, destined to become a modern classic in the form of a Larousse Gastronomique or Escoffier Le Guide Culinaire."
You can buy the directory here.
Chandos has been making great films about chefs and cooking for over ten years; buying The Chef's Directory will give you unique access to a film library that comes online next year.