I'm a huge fan of social media and have seen the changes it has brought to the industry over the last few years. Back in the day, I was an avid user of online food forums, such as eGullet, which connected me to people across the UK and the world. Living in Cornwall, working mostly on my own, some sense of isolation was bridged by the internet. I went to my first starred restaurant, Chez Bruce, as a direct result of eGullet. Friendships formed online from those early days on eGullet still remain today. As social media evolved I saw the potential for more connections, mostly for fun and gossip, but with a chance to quietly highlight what we were doing in Padstow. When Twitter came along, I, like most people, gave it a go and then walked away. When I returned to give it a second chance, it clicked…I got it!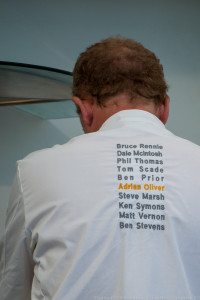 I've used Twitter mostly as my social media of choice since making the change to a smartphone a few years ago. Easy, immediate and limited to 140 characters, it suits me well. I'm not one for long speeches; this blog is the longest thing I've written in a long time. The connections made can be best illustrated by the Kaiwecare Charity event, a fundraiser for the New Zealand earthquakes. A tweet by Mat Follas snowballed into an amazing event raising £65,000 in one night. I volunteered and was tasked to assist one Russell Brown, a chance encounter, which resulted in our friendship and subsequent adventures.
I believe that Twitter is a window to our kitchens, restaurants, lives. You choose to share your thoughts, ideas, frustrations. Things can blossom. One of my better ideas was The Cornish Chefs Club. Born on Twitter, and mostly run on it, the club is for chefs to cook for each other. The horrible word 'networking' could be used, but it's just good old connecting with people. The club has resulted in great collaborations amongst likeminded chefs, joint dinners, guest spots, demos, mad ideas that actually happened…and friendships. Chefs that help each other offline, with work and non-work problems. Oh, and we did a fundraiser using the Kaiwecare model, an epic event, raising a bit for local charities.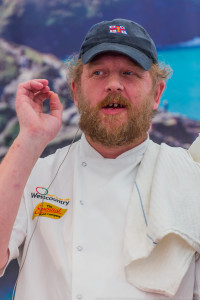 It's not all roses though. Twitter has seen its share of storms in tea cups with chefs, guests, critics, bloggers etc. This is the flip side of its immediacy, shooting from the hip, tweeting without thinking. But I feel chefs have learnt the lessons and now mostly embrace it in the right spirit. Endless self-promotion just bores people eventually, but used as a tool to connect with the world, there's nothing better. And for proof of positive use, just see Sticky Walnut, the Hoole restaurant that raised £100k in one month on Kickstarter solely using Twitter to promote it. So embrace it and connect – you never know where it might lead!
[blockquote cite="Russell" type="left, center, right"]I wholly endorse Adrian's love affair with Twitter. For me, it truly was a window into and out of the kitchen and the three main events Adrian has highlighted were all incredible. Kaiwecare was born out of disaster but not only raised a huge sum of money to help but sowed the seed of lasting friendships and is something I often use to illustrate the power of social media. Eleven of the thirteen guest bloggers on this site I first came into contact with through Twitter![/blockquote]