Food festivals abound these days and take various different guises; food stalls and chef demonstrations, marquee based dining events or, in the case of Eat Jersey 2015, a couple of gourmet dinners involving a list of guest chefs as well as a casual dining event to round things off.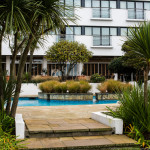 The festival was held across three days last week, the 5-7th November, at the Atlantic Hotel, Jersey and sister restaurant Mark Jordan at the Beach. It started at the Atlantic with a five course dinner on the Thursday night, followed by a similar six course dinner on the Friday, and then an all-day burger and lobster event at the Beach on Saturday.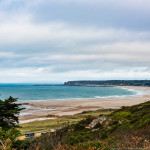 I am lucky to get asked to take part in this sort of event every now and again and my new role allows me to say 'yes' more frequently! Jersey is a delightful island that Eléna and I have visited many times. It is so easy to access from the UK and we have benefited from the ferries' close proximity over the years. The coastal walking is superb, and we have also enjoyed sea kayaking and guided walks at low tide to Seymour tower some 2km off the coast, taken trips to the Écréhous in a R.I.B. and spent hours staring at the sea. We have also done some seriously good eating in Jersey.
Currently there are three Michelin starred restaurants on an island that is only nine miles long and five miles wide but this is only the start of it. The produce available is phenomenal (a walk around the markets is a must) and this filters through into a whole variety of restaurants from simple beachside bars and bistros to quayside and town centre restaurants, as well as the likes of the Atlantic Hotel, Bohemia and Ormer, the Michelin star holders. To get to cook on the island was a real treat especially given the list of other chefs taking part!
Mark Jordan, Executive Chef at the Atlantic Hotel…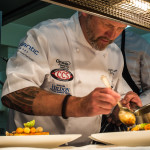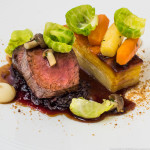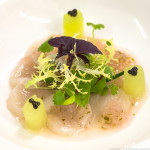 Steve Smith from Bohemia, Jersey…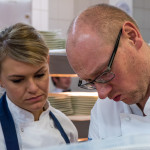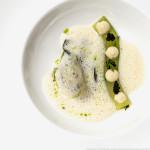 Simon McKenzie from the Brasserie Restaurant at Old Government House, Guernsey…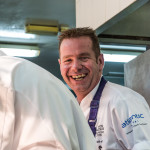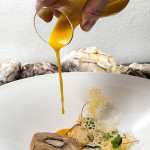 Philippe Hardy from Le Mascaret, Basse-Normandie…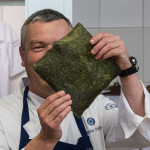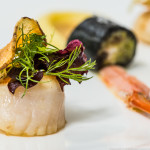 Pascal Proyart from One-O-One, London…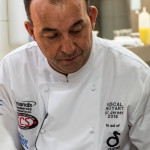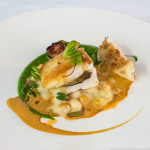 Adam Smith from the Burlington Restaurant at the Devonshire Arms Hotel…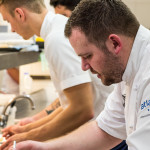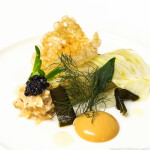 Michael Wignall from The Latimer at Pennyhill Park…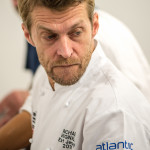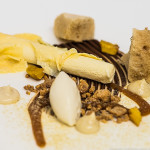 and Tamas Varsanyi, head chef at Mark Jordan at the Beach.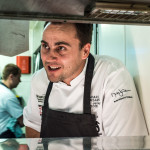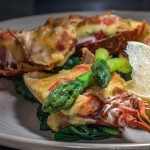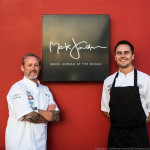 We were aided and abetted by Adam Spencer from Bohemia and Glen Noel from the Atlantic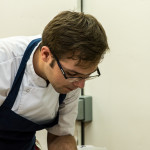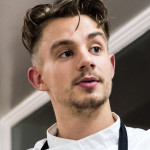 ..and many others! I did say it was some list!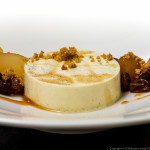 The idea behind the festival is to promote the island and showcase the local produce that is being used in its restaurants. For the chefs involved, it certainly gave plenty of scope and the menus featured Jersey beef, lobster, crab, scallops, oysters, turbot, cream, mushrooms and cider, amongst other things. I cooked the dessert course on the Thursday night utilising what, for me, is one of Jersey's iconic products, its cream, for a pannacotta with autumn fruits and a local cider and raisin syrup.
These events provide a relatively rare opportunity for a diverse group of chefs to work and spend time together. It is a true opportunity to learn and share ideas, to see how other kitchens work and to try lots of different food styles, something which I am sure is one of the big attractions for the guests. The statistics are impressive with those involved collectively having six Michelin stars, a Michelin bib gourmand and twenty four AA rosettes.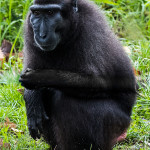 The whole event was superbly organised and included enough free time to see some of the island too. We ate in the Ocean Restaurant on the Wednesday evening, enjoyed a fascinating behind the scenes tour of the Durrell wildlife park (the festival's philanthropic partner), devoured juicy burgers and sweet succulent lobster at Mark Jordan at the Beach, and finished off with a superb dinner at Bohemia in St Helier. More than anything though I got to spend some time on a beautiful island with an inspiring, talented and affable group of people. Thank you all for making it an extremely special weekend. I am sure the foundation has been laid for a long run of 'sold out' Eat Jersey food festivals over the coming years.
You can find out more information on the Atlantic Hotel here  and follow all the chefs involved on Twitter @_markjordan and @_780180 , @chefsmith1987 @PascalProyart @MichaelWignall @steve01smith @smkenzie @Bohemia_Jersey @atlanticjersey @LEMASCARET1