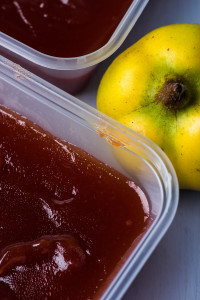 I remember a japonica bush in the garden where we lived in Tavistock when I was small. The garden was a haven for birds; the magnolia tree was favoured by the long-tailed tits but the bullfinches loved the japonica bush with its vibrant red flowers that were duly followed by what, in memory at least, was an abundance of large yellow fruit. I remember it dropping from the bush and slowly rotting away over the winter. Given my Mum's love of cooking, baking and preserving, it's strange that the fruit never got used.
For me, the quince has two starring roles, firstly as membrillo or quince paste that goes so wonderfully with hard mature cheeses, or stirred into a meat-based sauce in much the same way as you would use redcurrant jelly. Secondly I like to poach or pickle the fruit to use as an accompaniment; to cold meat in the case of the pickle, or with game for the poached fruit. Combine red wine, sugar cinnamon, peppercorns and some star anise in a pan, bring to a simmer and immerse the peeled and cored quince pieces and simmer until barely tender. Allow to cool in the liquid and then refrigerate to store. Reheat with a little of the cooking liquid, allowing it to reduce to a glaze and finish with a tiny knob of butter. Delicious with roast venison or maybe some wild duck.
What is the difference between quince jelly and quince paste or Membrillo? Well, as with many food questions, the answer is rarely clear cut but my best shot is that a jelly is made from the juice strained from the cooked pulp whereas a paste contains the pulp and juice. Texture is the main difference with a jelly being lighter and smooth. Reason to make some of both I reckon!
QUINCE PASTE
2 kilos whole quince

1 lemon

700g granulated sugar per kilo of pulp

citric acid

salt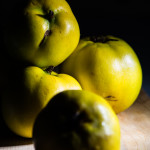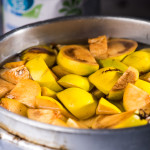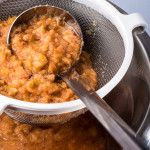 Roughly chop the quince and place in a large pan, cover with water and bring to the boil. Simmer until the quince is completely tender and starting to break up. This will take around an hour or more so top up with water if necessary. Next, carefully mash the contents of the pan with a potato masher to get it into a rough puree. Rub through a coarse sieve into a bowl and then whizz in a food processor until smooth. Quince have quite a lot of gritty bits, formed from groups of hard cells called scleirids, so it is worth passing the puree through a fine chinois to remove them. Weigh the puree you have left and return to the pan with the appropriate quantity of sugar and the lemon juice. Bring to a boil and cook until a probe or jam thermometer registers 105℃. Dip a spoon into the jelly and allow to cool before tasting. Add citric acid to balance the sweetness and a small quantity of fine ground sea salt to enhance the flavour. It should in no way taste salty. Pour into sterile jars or plastic trays to set. I used some takeaway-style containers and poured boiling water into them before use.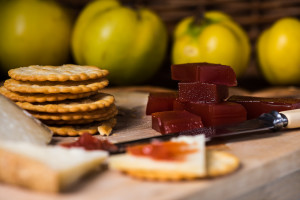 Look out for my pickled quince recipe in the December issue of Just About Dorset which will be out early next month. This months edition features my Sticky toffee pudding recipe using wonderful fresh Medjool dates on pages 24 and 35.