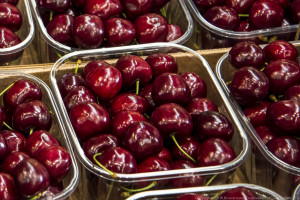 This is a choice that is partially influenced by a recent trip to Italy, as cherries were more than abundant in the Emilia-Romagna region. I was amazed at the choice of varieties in the markets and on roadside stalls. We also saw them growing in many places, both in neat orchards and wild in the hedgerows. Amarena cherries were a revelation, looking like bunches of glacé cherries on the trees. They are a bitter cherry and usually preserved in syrup.
The cook has many possibilities with cherries, from jams and pickles to compôtes and fillings for tarts. They swing from sweet to savoury with ease and those jams and pickles prolong the season. Add to this the fact that the English cherry season has just begun and the cherry is a perfect ingredient to explore this month.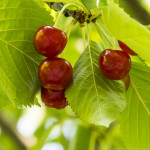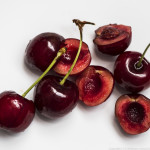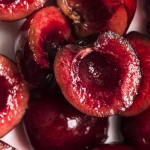 Cherry Compôte
400g cherries, halved and stoned (retain a few for garnish)
2-3tbs caster sugar depending on the tartness of the cherries
50ml port
5ml good balsamic vinegar
½tsp cornflour dissolved in 1tbs cold water
Combine three quarters of the cherries in a pan with the sugar, port and vinegar. Cook over a medium heat until the cherries are tender and the juices have thickened. Turn off the heat and leave to sit for 30 mins. More juice will be released from the fruit. Re-warm and thicken the juices with the cornflour. Chill and then add the raw cherries.
Ricotta custard
Another obsession since our sojourn in Italy! Watch out for a whole milk ricotta recipe soon.
100g ricotta
75g caster sugar
3 egg yolks
seeds from 1 vanilla pod
½ a leaf of gelatine soaked in cold water
60ml milk
Combine the ricotta, yolks, sugar and vanilla seeds in food processor, blend until completely smooth. Transfer to a heavy-based pan and cook out over medium heat, stirring constantly. Initially the mix will thin and then thicken up as the heat increases. Warm the milk and add the soaked gelatine. Stir until the gelatine has dissolved. Whisk into the ricotta custard and pass the mix through a fine strainer into a shallow plastic dish. Refrigerate to set.
Serve scoops of the custard with the cherry compôte and some crisp biscuits.