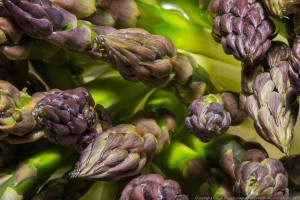 English asparagus would probably rate as my single most anticipated ingredient of the year. I know the season has been hugely extended by modern growing techniques and we even see an autumn crop now, but for me I love the sense of tradition in the classic season.
April 24th until June 21st or, as some would have it, St George's day to the summer solstice is the season, give or take a little! The weather is the big influencing factor, with the growth of new shoots stopping if soil temperatures fall below 10℃. Asparagus is best eaten as fresh as possible, as once the spears have been cut the sugars start to convert to carbohydrates. I find the best way to store asparagus is in the fridge with the bottom end of the spears wrapped in damp paper towel.
One of the real beauties of asparagus is its versatility; there are so many ways of preparing and using this delightful vegetable. The spears can be boiled, roasted, chargrilled or steamed all to good effect. Pasta dishes, warm salads, risottos, soups and tarts all spring to mind. Make asparagus the main event or use as an accompaniment to meat or fish. Blanched asparagus warmed in a butter sauce to go with John Dory and scallops, or chargrilled as a warm salad with free range roast chicken are a couple of my favourites. Sometimes simple works best though and the spears, just boiled, with a dollop of home made mayonnaise and crusty bread is sublime!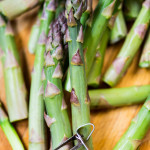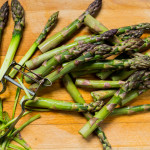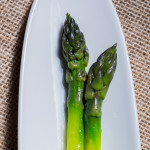 RECIPE FOR ENGLISH ASPARAGUS RISOTTO
Serves two as a main course
100g risotto rice1 small onion, diced
1 clove of garlic, crushed
75ml white wine
1 litre vegetable stock
1 bunch asparagus, peeled and blanched (retain peel)
25g butter
25g grated Parmesan
2tbs good olive oil
In a heavy-based saucepan, heat the oil and sweat the onion and garlic over a low heat until soft. Add the rice and cook, stirring constantly, for two minutes. Put the stock on to come up to a gentle simmer and add the retained asparagus peelings. Add the wine to the rice and cook until completely absorbed. Add stock a ladleful at time, straining out the asparagus peel, stirring well with each addition. Continue until the rice is just al dente. When you squash a grain between your fingers, you should still see a little white core. Cut the asparagus into bite sized pieces and stir into the risotto, bring back to the simmer and remove from the heat. Drop the butter and Parmesan on top of the risotto and leave to rest for 5 minutes. Stir in the butter & Parmesan, adjust the seasoning and reheat gently. The rice should be creamy and fluid; add a little more stock if too stiff. Pour into warm bowls and drizzle over a little good olive oil.