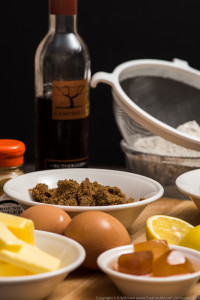 One of the big changes I have seen in my cooking over the last few months is the move away from a rigid style. I really didn't cook much at home while we had the restaurant. The odd Sunday night dinner, or if we had friends around, yes, but day to day, no. At one in the morning after a busy service, it was more about sustenance than anything else; a frozen pizza in the oven or something popped in the microwave.
I am re-discovering some of the food I enjoyed cooking in the past; a decent chilli, a full-on Sunday roast or maybe something oriental. My first love is still for simple, seasonal Italian style food but I have been enjoying some experimenting, and one ingredient that has featured quite a bit is ginger. I do like the warm, aromatic flavour of ginger and, at the restaurant, used it fairly extensively in chutneys, pickles and in desserts but very little in the bulk of the savoury cooking.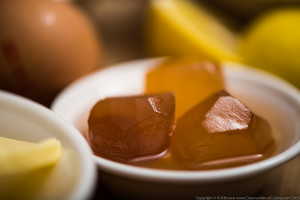 Chinese food was one of the first things that, as a teenager, I got really excited about cooking, and multi-dish menus often featured. Fresh ginger is certainly a key ingredient in this type of food and a prawn, spring onion and ginger noodle dish has come out of my kitchen a few times recently. A gooseberry, ginger and lime chutney was another experiment and good it was too! My real preference though is for ginger in the world of desserts, pastries and confectionery. Stem ginger ice cream, ginger ganaches, diced and mixed through shortbread or in the sticky ginger cake below. A variation on a sticky toffee pudding theme really: some cream cheese frosting would be good or use it as part of a dessert with lemon curd and a cream cheese mousse maybe? A trifle would be another option should any of the cake go a little past its best.
STICKY GINGER CAKE
125g Californian raisins
100ml Muscat or other sweet wine
4 pieces of stem ginger
100g unsalted butter
80g dark muscovado sugar plus 1tsp for sprinkling on top
20g ginger syrup from the stem ginger plus 30g for finishing
2 whole eggs, beaten
½tsp bicarbonate of soda
150g self raising flour
5g fine ground sea salt
5g ground ginger
grated zest of one lemon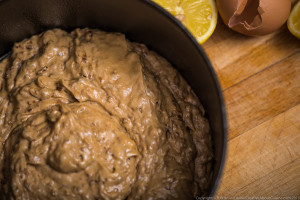 Place the raisins, wine and ginger in a pan, bring to the boil and simmer for 5 minutes. Transfer to a food processor and blitz to a rough puree. In the meantime cream the butter, muscovado sugar, ginger syrup and lemon zest together and gradually beat in the eggs. Use a little of the flour to stop the mix splitting. Add the bicarbonate of soda to the raisin mix and blend in.
Sift the remaining flour together with the salt and powdered ginger. Fold the flour mix into the egg mix and then fold in the raisin puree. Pour the batter into a greased 20cm loose bottomed cake tin and sprinkle the 1 tsp of muscovado over the surface. Bake at 170℃ for 20 minutes and then reduce the heat to 150℃ and cook for a further 15 minutes. The cake should spring back when gently pushed and be a dark brown colour.
Remove from the tin and transfer to a cooling wire. Using a pastry brush, coat the top of the warm cake with the 30g of ginger syrup.