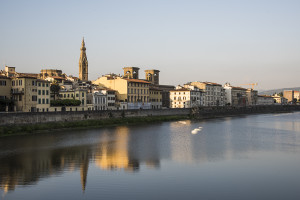 I am not a born traveller. I suffer from that very English fear of doing the wrong thing, not being understood and have never had any real aptitude for language, so a long trip to Italy was a little daunting!
We are however here and have had an exhilarating trip so far; out of the comfort zone has its plus sides, one of which is definitely the food!
We arrived in Florence late in the evening, and for me that first impression will be my best memory of the city. The relative quiet, the warm air, an ice cold Aperol spritz sat just outside the hotel on the corner of the Ponte Vecchio, the couples on the bridge enthralled with each other; a real sense of romance and promise.
That promise wasn't broken but I found Florence hard despite the fantastic central market, some amazing food and incredible architecture. The tour parties, the searing heat, the beggars and the hawkers all took the edge off a little. I want to go back but I need to know if Florence has such a thing as an off season?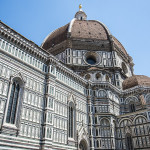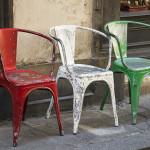 Tasting menus at La Bottega Del Buon Caffe were complex and explored the sweet and savoury crossover to the full with a superb piece of John Dory as a main course. Gelato in the central market was the real deal, and it was here that we also ate bistecca fiorentina cooked in a Josper oven accompanied by roasted potatoes and perfect spinach. A punnet of ripe, slightly tart cherries provided dessert.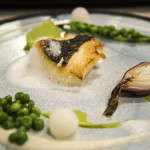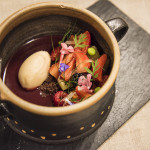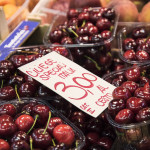 Our third night in Florence was another highlight as we joined hundreds of other people to watch the sunset over the city from Piazzale Michelangelo. A stroll along the Arno and a fair climb to the Piazzale really was worth it for the carnival atmosphere and the chance to watch the sun sink behind the hills as it turned the Arno into a ribbon of gold flowing through the city.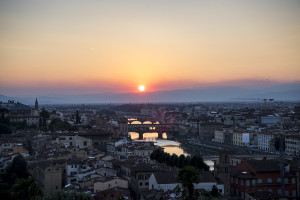 Dinner at one of the many little restaurants in Piazza San Spirito brought this visit to Florence to a close with simple pasta and more of that buzzing atmosphere.
Maybe that first impression wasn't so far off the mark, there is a lot to love about this historic city.
Hotel Continentale (A perfect roof top bar!)