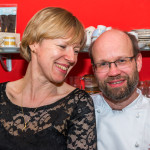 So Saturday April 25th was our last service at Sienna and we certainly gave ourselves a challenging night to end on! We decided that it wouldn't feel right to do a normal service to finish up, so we combined forces with No 35 Coffee House and Kitchen, our next door neighbours, to give us a much bigger space. 14 seats is our normal capacity but this allowed us to have 33 guests plus our staff and some willing extra helpers for the last night.
Bollinger champagne to start, 10 courses of Sienna classics in the form of bowl food and snacks, amazing coffee from Toby at No 35 and of course petits fours to round things off!
The logistics were certainly a challenge, but I have been really lucky to finish my time at Sienna with a very talented team in the kitchen, Michael Cruickshank and Adam Spencer, so with the help of great friend Adrian Oliver all was smooth on the food front. Eléna had our normal front of house team, Jenny and Richard, with the addition of Mark Machin helping us out for the night so everything was in place for a good finish.
Around 350 plates of food, plenty of champagne and lots of wine too, this was a service I really enjoyed! I love a challenge and perhaps that is at the heart of our decision to move on. We have had an amazing 12 years at Sienna and I am hugely proud of our achievements, but for me I had pushed things as far as possible in our tiny space and hence Creative about Cuisine was born. I am lucky to have lots on the go, with some monthly magazine columns (including one for the Caterer), a consultancy contract with Kingston Maurward College, and more besides.
Our last night really did sum up what we set out to achieve at Sienna and that was to serve great food and interesting wines in a relaxed atmosphere. Well, we were certainly relaxed when we finally left at 5 am!
Particular thanks must go to;
Toby and Steven at No 35 Coffee House and Kitchen for providing a perfect venue and delicious coffee.
Mentzendorff for supplying the Bollinger.
David Williams for the fantastic images below.
Mike, Adam, Richard, Jenny, Adrian and Mark for all your hard work.
Due to the help from everybody over the last month we have been able to send a cheque for £610 to the industry charity Hospitality Action.