This is something that is a rarity in our house! I grew up with the whole 'roast every Sunday' thing and, to be fair, when Eléna and I bought our first house together we still had a roast most Sundays. Relatively cheap, cold meat for later in the week, maybe some bubble and squeak; nothing wrong with that.Over the years however, it's something I've cooked less and less. Actually, we eat very little in the way of joints of meat, chops, steaks, etc. Cold meats, charcuterie and bacon, yes, but I'm more likely to cook pasta, warm salads or some tapas than roast a joint.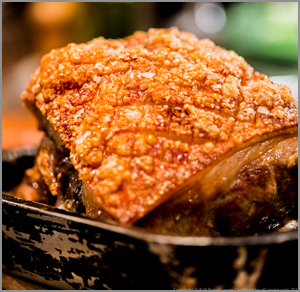 Still, occasionally it is hard to beat that traditional Sunday roast, and a good free range chicken or a piece of pork tend to be my choice. I always feel that beef is best roasted as a big piece so suits larger numbers better (although a single bone piece of rib does work well for two!), and lamb isn't one of Eléna's favourites.
Having had friends around recently, I've roasted a piece of pork shoulder a couple of times and been really pleased with the results. This is something I've always struggled with, particularly that transition from cooking at work to cooking at home. No combi oven, no decent extraction, no stock or jus en place; tricky! The principles however don't really change. Start off buying the pork from a decent supplier and get something that isn't too lean.
I am on shaky ground with the science, but from observation if a piece of pork is too lean I really struggle to get good crackling. I bought a 2.5 kilo piece of bone-in pork shoulder (a joint called a spare rib) from  Walter Rose and Sons in Devizes, the butchers we use for the restaurant.
To cook, score the skin with a sharp knife, rub with a glug of olive oil and salt generously with Maldon sea salt. Place in a fan oven pre heated to 220℃ for 30 minutes. The skin should have started to crackle well. Remove from the oven, turn the oven down to 120℃.
Take the pork out of the roasting tin, drain off the fat and save for the roast potatoes. Add some mirepoix or just some roughly chopped onions to the tin along with a teaspoon of fennel seeds and a small bunch of fresh sage. Put the pork back on the mirepoix and add water or cider to a depth of 2cm. Cook for 3 hours topping up the water as necessary. Turn the oven back up to 220℃ for 15- 20 minutes to finish off the crackling. Remove and allow to rest for around 45 minutes, time enough to sort the last of the veg. Drain off the liquid from the roasting tin, pass through a sieve and skim off any excess fat, reduce to taste, season and thicken if desired.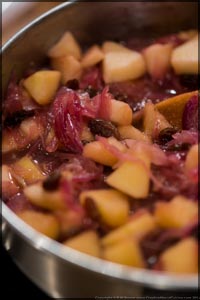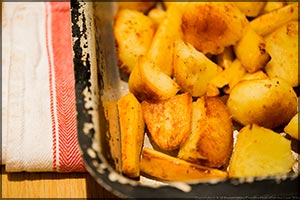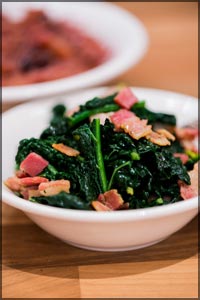 I made a red onion and apple compôte to go with the pork; that sweet and sour combination is perfect with the rich meat. Potatoes (Maris Pipers) roasted in the pork fat, broccoli and roasted carrots completed our Sunday roast. This "wet" roasting technique is something I think works really well for lots of joints, whether a rolled rump of rose veal, a whole chicken or a duck crown. Times and temperatures vary accordingly and a digital temperature probe is a must! You can vary the aromatics and herbs to suit. Lemon and white chocolate roulade was for pudding, you can find the recipe here.