I came back from our recent trip to Italy totally inspired in so many different ways. The country felt different, more rooted in its agriculture, food was more relevant and eating was important. Coming home, it really did feel as though we have lost our way. I don't necessarily believe there is blame to be attached, but somehow we have become disconnected.
Most of us shop in supermarkets for whatever reason and they do provide some good products but my first visit on our return was truly depressing. Most things are prepackaged, meat sits on its little polystyrene tray, cheese is entombed in its vacuum pack and broccoli tightly shrink wrapped. On the positive side, I did come back believing that cooking in our pubs, restaurants and hotels is at a real high.
I grew up in a farming area and in my teens lived on a farm. I have an appreciation of seasonality, of agriculture, of how the food on our plates is produced. I am lucky. I saw calves born, cows being milked, vegetables planted, the harvest, and the slaughter of turkeys at Christmas.
For the last 20 years I have cooked for a living and, despite my upbringing, in the early days the food had little seasonality. It just wasn't the way most kitchens worked back then, but I was intrigued by this oddity. My first 3 Michelin star meal was in February (1989 I think) and included both asparagus and red berries. Nothing unusual back then. Things have changed for the better over the intervening years; my own menus became totally driven by the produce and, in turn, the seasonality, and there were plenty doing it before me. I still think we are remote from the realities though and miss out on a true connection with the way our food is produced and those producing it. To actually get out there and visit the producers isn't really on the cards for most chefs or consumers, but should the opportunity present itself, I say grasp it and find out some of the hows and whys for yourself.
Some of the answers and scenarios are staggering. Again, I count myself as being lucky in that my job does allow me to meet growers, fishermen, farmers, wholesalers and retailers. It is an unquestionably fascinating experience.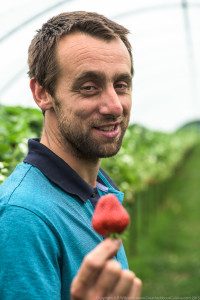 Josh Warren is a fifth-generation strawberry grower at Warrens Farm just outside Cheddar in Somerset. I recently had the pleasure of paying a visit to the nursery with Charlie Hicks from Total Produce, a man who has seen a few strawberries in his time! The nursery has around twelve acres of glasshouses and polythene tunnels that the fruit is produced in: nothing is grown outdoors anymore. This was a decision prompted by a devastating outbreak of black spot some years ago when yields went from forty trays from a row to five literally overnight, as light rain caused splashes of earth onto the fruit. The earth contains the spores that cause the disease and it develops that quickly.
Certainly for the pickers the move indoors is a blessing, with all the plants now being at shoulder height. Other changes have occurred too, and throughout my visit much of the talk was of innovations in science and technology, the juxtaposition being the hand picking and planting. All the watering and feeding of the plants is computer controlled and the family have made a huge investment in a state of the art boiler that uses sustainably produced wood chips for fuel.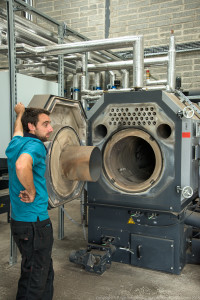 This was a big surprise – I knew the greenhouses would be heated to provide those late and early crops of berries but this boiler set-up is colossal! It requires its own shed and a large building next door to store the wood chips, which are automatically fed into the boiler with a huge auger. The benefit to the nursery is not only a longer season but a payment from the government of 7.6p per kwh produced over the next 20 years. Silicone levels, water hardness and sugar values, measured on the Brix scale, all came up in conversation. A water treatment plant will be needed before long to control the hardness; £250k is the current estimate of the cost.
What really left an impression though was Josh's sense of excitement about the possibilities ahead and his utter passion for what he does. He took us to the tunnels holding the very best of the current crop, a variety called Red Glory, and pinched fruit off the stems for us to taste. Delicious soft fruit with intense flavour, but for Josh at least not quite sweet enough just yet. Charlie called him obsessed and there wasn't any argument.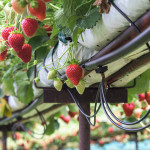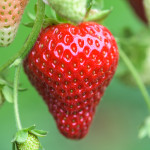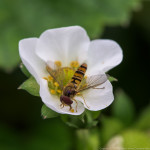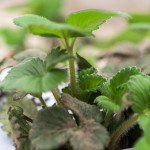 The family have two farm shops, sell into the markets and also have supermarket contracts. Through their investment in technology and the continual search for better practices and better varieties, the season will run this year from March 10th until some time in November. Despite all the technicalities and so on, this is still very much a family business and is utterly reliant on the passion of the people running it.
It was good to get some mud on my shoes and make a bit of a connection!
You can find some of my strawberry recipes in my article for The Caterer