How exciting is this! The first copies of Well Seasoned have arrived and here is a little preview. There is still time to take advantage of our pre-order offer or you can order direct from Amazon.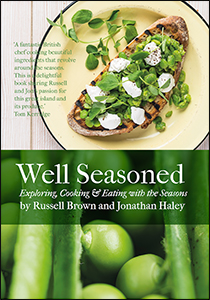 It is not long until publication day now for Well Seasoned!
The last few months have flown by as we have been busy working on the final pieces but the book has now gone to print. Pre-orders are a really important part of the book selling process and you can order from Amazon now.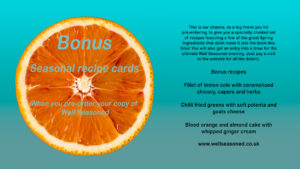 As a thank you for pre-ordering, you will be able to claim an exclusive set of recipe cards for a spring menu as well as getting an entry into a draw for an amazing Well Seasoned dinner.
For all the details, please visit www.wellseasoned.co.uk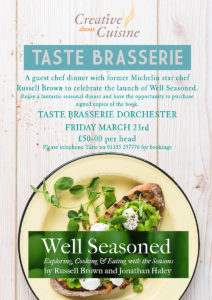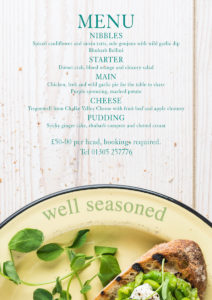 Upcoming Events
Special June Wine Taster Dinner at Ben's Cornish Kitchen in Marazion
Saturday 30th June, 7.00pm
Russell will be cooking with chef Ben Prior at his fourth South African Wine Tasting event of 2018 which will be a bit special – it's Ben's birthday! It will be a great opportunity to be with friends and to enjoy great wines and food.
Russell writes, "Ben and I have been friends and have enjoyed cooking together for several years now. I always look forward to our collaborations but this dinner has a slightly different approach. Ben has always been utterly passionate about the wines he serves and this is a passion that only increases with time so for this dinner the wines really have come first.
The menu we have created together has been driven by the wines we tasted from Newton Johnson. Ben visited the vineyard earlier this year so already had some ideas in mind and I have tried to bring in some elements from dishes in my recently published book, Well Seasoned. The seasonality is at the fore but we started with a blank canvas and let the wines dictate the menu.
I am sure this will be a fantastic evening for food and wine lovers alike, the wines are truly special and I think we have come up with a menu to match."
Ben's wine focus in June is Newton Johnson.
6 wines and 6 Courses … only £55 per person
You will need to phone to book and we will also take a £20 deposit. Spaces will go quick, so please call as soon as you can!

01736 719200
Sign up to Russell's Newsletter!
Whether you have a passion for food, a desire to learn, are an industry professional, the owner of a catering business or a lover of writing and photography I hope my site is somewhere you will want to explore. Creative about Cuisine is a showcase for my consultancy, writing, teaching and photography. It is however much more than that! Diary dates for forthcoming events such as demonstrations and cookery courses, regular blogs not just by me but a fantastic collection of guest bloggers and video all feature. Make yourself a coffee or pour a glass of wine and take a look around, let me know your thoughts and I will do my best to make Creative about Cuisine somewhere to return to time and again.