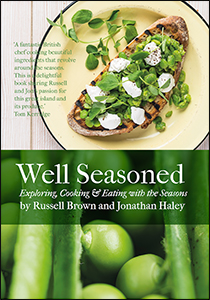 It is not long until publication day now for Well Seasoned!
The last few months have flown by as we have been busy working on the final pieces but the book has now gone to print. Pre-orders are a really important part of the book selling process and you can order from Amazon now.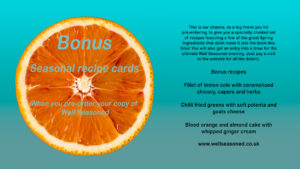 As a thank you for pre-ordering, you will be able to claim an exclusive set of recipe cards for a spring menu as well as getting an entry into a draw for an amazing Well Seasoned dinner.
For all the details, please visit www.wellseasoned.co.uk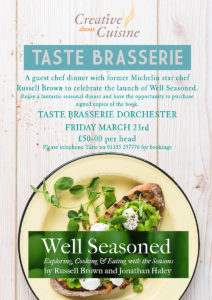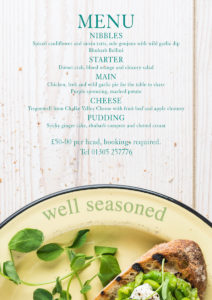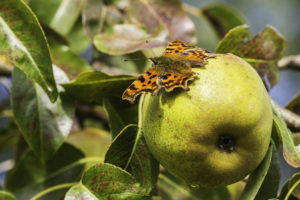 The last few months have been busy ones with most of my efforts concentrated on finishing the recipes and images for Well Seasoned. The March 2018 publication date doesn't seem so far off now and it's exciting to see the design of the book coming together.
Jon and I are now working with our publishers on the publicity and marketing that will coincide with the launch so keep an eye out for developments!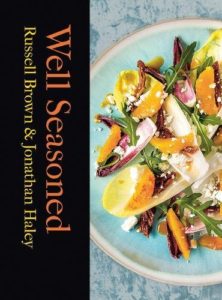 You can see a few images from the book in our new photography gallery (you will have to guess which ones for now!) There is a recipe for partridge terrine from the book and an accompanying video on the Recipes and Videos page.
I hope these tasters will be enough to make you want the book! Click the image to  to pre-order it ahead of publication!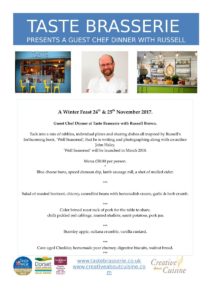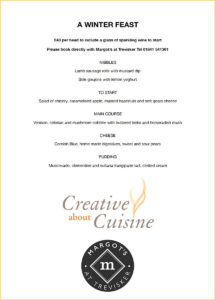 There are a couple of dinners coming up – one at Taste in Dorchester and one at Margot's at Trevisker near Padstow (click image on right for the  menu), so I hope to see some of you then. Both menus will be loosely based around the book, a bit of Winter Feasting.
Please contact Taste directly to book,  01305 257776

Sign up to Russell's Newsletter!
Whether you have a passion for food, a desire to learn, are an industry professional, the owner of a catering business or a lover of writing and photography I hope my site is somewhere you will want to explore. Creative about Cuisine is a showcase for my consultancy, writing, teaching and photography. It is however much more than that! Diary dates for forthcoming events such as demonstrations and cookery courses, regular blogs not just by me but a fantastic collection of guest bloggers and video all feature. Make yourself a coffee or pour a glass of wine and take a look around, let me know your thoughts and I will do my best to make Creative about Cuisine somewhere to return to time and again.