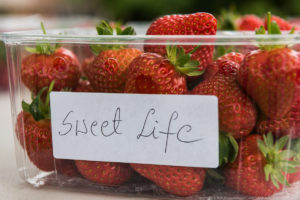 No matter how many times I am lucky enough to visit a quality grower or food product, I am always amazed at the level of detail applied in these businesses. Running restaurants is all about the detail and a passion for what you do but this attitude really does start at the beginning of the supply chain.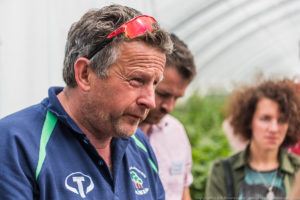 The New Forest Fruit Company and its owner, Sandy Booth, epitomise this. Over the years Sandy has run the business as an employee, jointly owned the business with John Boyd and since November 2017 has been sole owner. Farming over 200 acres, the company employs upwards of 450 staff at the height of the season. Hourly pay, good staff facilities, dedicated work camp managers, a programme of social events, a volume-based picking bonus and a nine month season all help the company to achieve an 80% return rate for staff year on year. Even with labour accounting for 45% of costs this is an area that doesn't really trouble Sandy.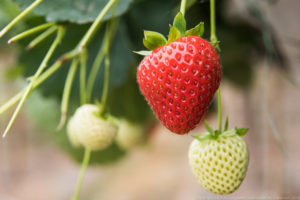 Although the company grows blueberries, raspberries and asparagus, it is the strawberry that Sandy is totally passionate about. I chatted to him recently at the annual 'strawberry day', organised by wholesaler Country Fare Dorset, and was fascinated by the tour of the farm that he led. Listening to him run through the process of putting strawberries in our kitchens and on our tables, it was that detail that really struck me. This is summed up by one fact; they will test around 40 different varieties of new strawberries in any given year, with only one or two being deemed good enough to move on to larger production.
The following are just some of the details shared about the business and the way it operates:
4000 tonnes of strawberries is the estimated harvest for this year
The berries are grown in a mixture of glasshouses, French and Spanish tunnels.
The farm, just outside Beaulieu in the New Forest, has a unique micro climate. The way the Isle Of Wight acts as a 'wind break' is a significant factor.
Most of the strawberries are grown using the table top method which presents the berries to pickers at 1.2m above ground level, making for minimal movement in the picking process.
Warm days and cooler nights with an 8 degree temperature difference provides the ideal growing conditions.
Red spider mite is a common pest and this is controlled with a predator species of insect. These biological controls are widespread on the farm with the predatory bugs now being dusted onto the plants by machine. A clove of garlic is sown every metre in the rows of strawberry plants; breaking the leaves on the garlic plants wards off aphids.
The plants are individually watered, with the soil metered to provide exactly the right dose. An on site reservoir was recently created, all 45,000 square meters of it, to catch winter rain for summer irrigation, a project supported by the EU and DEFRA as part of the rural development programme.
Bumble bees are used as pollinators. They go to work at much lower temperatures than our native honey bee so are a vital part of the process.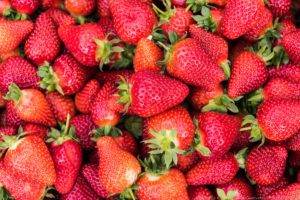 Six different varieties of strawberry were available for tasting; Altess, Harmony, Sweet Life, Murano, Furore and Malling Centenary. The last of these is a relatively new British variety from breeders at East Malling research in Kent. It is a larger berry, bred with its flavour at the fore and is predicted to be the death knell for the ubiquitous Elsanta. My favourite? It would have been a tough choice but the Furore edged it for me; lots of sweet fruit up front but with enough acidity to balance, firm but yielding texture and a complex flavour with quite floral notes. That being said, I don't think you would have turned any of them down. New Forest supply to several of the major supermarkets so these are all varieties to look out for in retailers as well as from restaurants and caterers.
Many thanks to Sandy for such an interesting tour and to Country Fare for the invite to a great event.
Click the image below for my recipe using summer strawberries.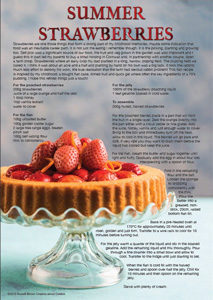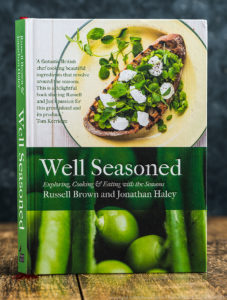 As you can imagine, the publication of Well Seasoned has been hugely exciting but a little daunting at the same time! Like anything that you commit a large amount of time and effort to, and then share with other people, there is always a bit of you that is worried about how it will be received. Fortunately, because of all the effort a whole host of people put into the project, it is going down a storm!
We are getting some great press coverage and some very pleasing comments about the book.
"Evocative, informative and stuffed full of the kind of food I actually want to eat."
"A fab new book which demonstrates how to make the most of the seasonal native larder."
"Brown and Haley have created a rather interesting call to arms. One can't help but want to follow and celebrate with the foodie duo as each new month dawns"
"A recipe book so practical, you'll use it for decades, yet so beautiful you want it on your coffee table as well as the kitchen counter."
"This doesn't just encourage you to cook with seasonal British produce, it'll also inspire you to get outside, whether it is foraging for elderflowers in May or wild swimming in July. Smart recipes such as beer braised beef cheeks make this perfect for weekend cooking."
Amazing comments from so many publications and that's without getting into the social media coverage! Do follow us on Instagram and Twitter to keep up to date with competitions, demonstrations, events, etc.
Jon and I will also be attending the Fowey Festival of Arts and Literature in May so if you want to hear us talk about Well Seasoned you can get tickets here.

Sign up to Russell's Newsletter!
Whether you have a passion for food, a desire to learn, are an industry professional, the owner of a catering business or a lover of writing and photography I hope my site is somewhere you will want to explore. Creative about Cuisine is a showcase for my consultancy, writing, teaching and photography. It is however much more than that! Diary dates for forthcoming events such as demonstrations and cookery courses, regular blogs not just by me but a fantastic collection of guest bloggers and video all feature. Make yourself a coffee or pour a glass of wine and take a look around, let me know your thoughts and I will do my best to make Creative about Cuisine somewhere to return to time and again.