Book update
We have just delivered the first half of the book and are really excited that the publishers have confirmed Matt Inwood as the designer. Jon and I have also released the first of a few teaser videos…
Razor Clams with herb crumb, lemon and parsley butter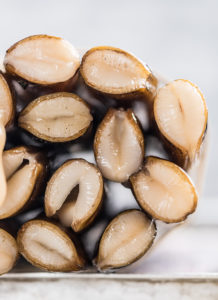 These are a little fiddly to prepare but for this particular recipe all the prep can be done in advance so it will take the pressure off! Once the clams are steamed open, the meat will pull easily from the shell and the inedible parts can be cut away.
Lay the clam flat on the board with the rounder end to the left, cut this off close to the dark sac. Lift the frilly wing up and slice off the cylindrical piece of meat with the pointed end. Now trim the wing away from the dark sac. Scrape off any odd bits of sand as you go.
Now the meat can be sliced into half centimetre pieces ready to use. If you're unsure at any point, the internet has plenty of useful videos on fish and shellfish preparation.
Serves 4 as a starter
For the clams
1kg live razor clams, thoroughly washed
75ml white wine
For the butter
50g unsalted butter
½ lemon, grated zest only
1 dsp lemon juice
freshly ground black pepper
reduced clam cooking liquid
1 dsp chopped flat leaf parsley
For the crumb
1 tbs olive oil
1 clove of garlic, smashed
40g day old bread, preferably a rustic loaf, torn into pieces.
1 tbs chopped flat leaf parsley
Method
Before you start cooking the clams, have a roasting tin of ice ready to chill them as soon as they are cooked.
To cook the clams, heat a large casserole or sauté pan that has a tight fitting lid. When really hot, drop in the clams and pour in the wine. Put the lid on immediately and steam over a high heat for 1 minute until the clams are open. Use tongs to drop the clams onto the ice. Pass the cooking liquid through a fine sieve into a small clean pan and reduce until syrupy. Allow to cool. Prepare the clams as described above and then chill the sliced meat for a few minutes.
Beat the butter together with the lemon zest, juice and a few grinds of pepper. Gradually beat in the clam cooking liquid, checking for seasoning as you go. The liquid will be salty so stop when the butter is well seasoned. Add the parsley and mix in the clam flesh.
Select eight of the largest and best looking shells, give them a scrub and then place in a pan of water and bring to the boil to sterilise. Drain and dry off. Allow to cool.
For the crumb, heat a tablespoon of olive oil in a small pan and add the garlic. Cook, turning frequently, to make a garlicky oil. Don't let the garlic go beyond golden or it will start to take on some bitter notes. Blitz the bread with the parsley, garlic and oil to make coarse breadcrumbs.
To serve
Fill the clam shells with the buttery clam meat and top with the breadcrumbs, grill under a hot grill for 2 minutes until bubbling and golden. Serve immediately with lemon wedges and bread for mopping up the juices.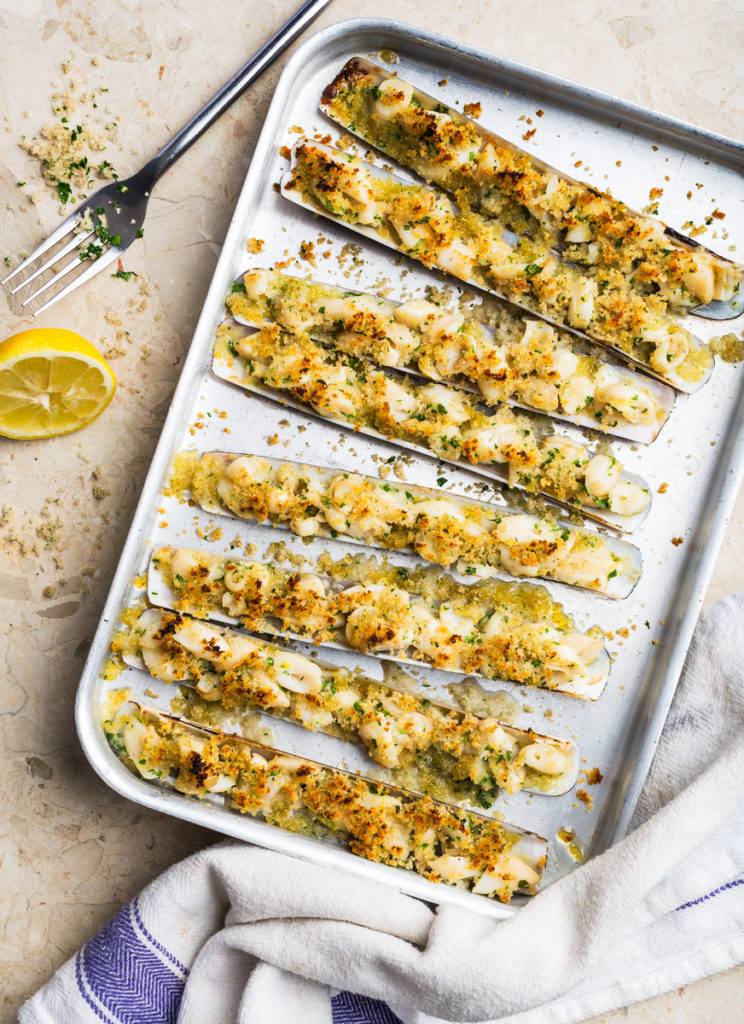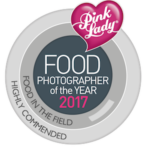 Delighted to have been a Highly Commended entrant in this years Pink Lady Food Photography awards, such amazing produce to work with!
Here's the picture that was Highly Commended.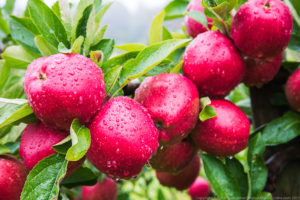 News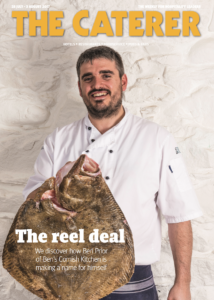 Delighted to make the front cover of the Caterer magazine with my article on Ben's Cornish Kitchen.
Upcoming Events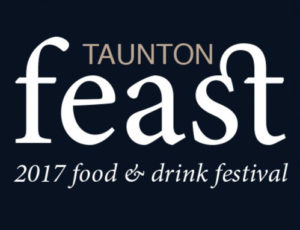 Saturday 30th September
Russell will be on stage at 2.15pm


Friday and Saturday November 24th and 25th
A Winter Feast Guest Chef dinner at Taste Brasserie in Dorchester, details TBC, please email to register your interest.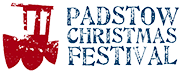 Friday the 8th of December
Come and see me demo at Padstow Christmas Festival 4.15pm in the Festival Theatre. The Padstow Christmas festival is always a fantastic event with a whole host of activities going on. See my blog about last years festival here.

Saturday, December 9th
A Guest Chef dinner at Margot's at Trevisker just outside Padstow with my good friend Adrian Oliver and Henk de Villiers. Details TBC, please email to register your interest.
Sign up to Russell's Newsletter!
Whether you have a passion for food, a desire to learn, are an industry professional, the owner of a catering business or a lover of writing and photography I hope my site is somewhere you will want to explore. Creative about Cuisine is a showcase for my consultancy, writing, teaching and photography. It is however much more than that! Diary dates for forthcoming events such as demonstrations and cookery courses, regular blogs not just by me but a fantastic collection of guest bloggers and video all feature. Make yourself a coffee or pour a glass of wine and take a look around, let me know your thoughts and I will do my best to make Creative about Cuisine somewhere to return to time and again.