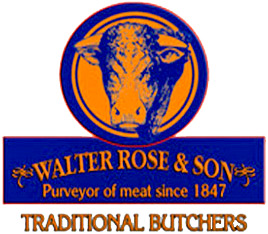 I have worked with Walter Rose for a number of years now and the quality of meat they supply is consistently excellent. Chatting with Jack recently we talked about some of the cuts that are a little bit more difficult to sell. I have always loved breast and neck of lamb and had great fun looking at a different way of using these cuts.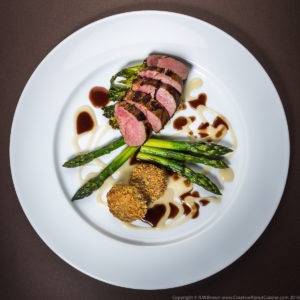 Both breast of lamb and lamb neck fillets have superb flavour but are sometimes overlooked. The breast responds well to slow cooking techniques, either conventionally in the oven or sous vide. The neck fillets are the classic cut for a navarin of lamb but also work well when marinated in yoghurt with spices and chargrilled. In the recipe below I have used both cuts in the same dish to bring different textures into play.
The neck fillets have been cured with salt, mustard and honey and the breast was slow roasted and then shredded before mixing with the onions and reduced cooking liquid.
Cured Lamb Neck Fillet and Slow Cooked Breast with British Asparagus and New Potato Puree
Serves eight
Start preparing 48 hours ahead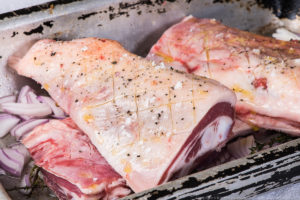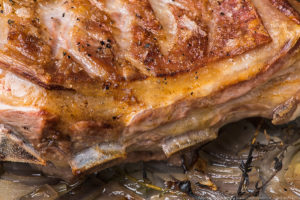 For the neck fillets
4 trimmed neck fillets, excess fat and sinew removed
2 dsp Maldon salt
2 dsp runny honey
2 tsp dijon mustard
1 clove of garlic, crushed to a paste
1 tsp chopped thyme
Mix all the ingredients for the cure and coat the neck fillets completely. Either wrap tightly in clingfilm or vacuum pack the fillets with the cure. Refrigerate for 36-48 hours then wash the cure off the fillets, dry thoroughly and return to the fridge until required.
For the breast
Preheat the oven to 250°C
1 whole breast of lamb
2 onions, peeled, quartered and thinly sliced
2 cloves garlic, peeled and sliced
6 sprigs of thyme
100ml white wine
1 whole egg, beaten with a little milk
50g seasoned flour
50g panko bread crumbs
Maldon salt and fresh black pepper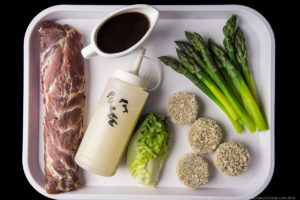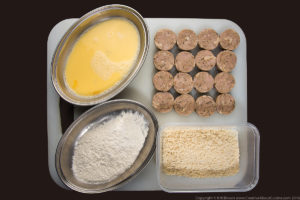 Place the onions, garlic and thyme in the bottom of a roasting tin. Cut the lamb breast into three pieces- you will have two pieces on the bone and the thinner boneless section. Score the fat and season well with salt and pepper. Place the boneless piece in the tray and then sit the two remaining pieces on top. Add the wine and enough water to just cover the onions.
Cook the meat uncovered for 15 minutes. Add a little more water to cover the onions if necessary, cover tightly with foil and reduce the oven temperature to 100°C. Cook for 2-3 hours until the meat pulls easily off the bone. Allow to rest uncovered for 20 minutes and then remove the meat from the tin.
Pull all the meat from the bones, discarding excess fat and sinew. Shred with two forks and transfer to a bowl. Remove the thyme stalks from the tin and skim excess fat off. Reduce the liquid until syrupy. Mix the reduced cooking liquid and onions with the lamb and season well. Form the meat into a 4cm diameter cylinder using a sheet of clingfilm. Roll up tightly, twisting the ends. Chill to firm up. Once chilled, slice into 16 even discs and coat first with the flour, then beaten egg and finally the bread crumbs. Return to the fridge until required.
For the potato puree
1 large banana shallot, finely sliced
1 clove of garlic, sliced
10 sprigs of thyme tied in muslin
500g Maris Peer new potatoes
olive oil
Maldon salt
In a heavy based pan, sweat the shallots and garlic on olive oil. Wash the potatoes but don't peel, thinly slice and rewash. Add the potato to the shallots, season with Maldon salt and cook until the slices start to go translucent. Add the thyme and just cover with water. Simmer until completely tender. Drain but retain the liquid. Squeeze out the thyme packet well and then discard. Puree the potatoes in a food processor, adding enough liquid to achieve a smooth thin puree. Season to taste. Chill until required.
For the braised lettuce
The reduction can be made ahead of time and the lettuce can be cooked to order as required.
2 large banana shallots, thinly sliced
1 clove of garlic, sliced
50ml Noilly Prat
100ml white wine
400ml vegetable stock
4 Little Gem lettuce, outer leaves removed, halved and core trimmed
olive oil
Maldon salt and fresh black pepper
Sweat the shallots and garlic in olive oil with a pinch of salt. When tender, add the wines and reduce to syrup. Add the stock and reduce by two-thirds. Season the lettuce halves and sear them cut side down in a non stick pan. You want them nicely caramelised. Turn over and add the shallot reduction. Cover and cook in a hot oven for 5-6 minutes until just tender. If necessary place the pan back on the hob to reduce any remaining cooking liquid to a syrup.
To serve
200ml lamb sauce
6 sprigs thyme
40 blanched spears of asparagus
unsalted butter
olive oil
Maldon salt and fresh black pepper
Sear the lamb neck fillets in a hot pan, colouring well. Add butter and a sprig of thyme for each neck. Transfer to a cold dish and pour over the butter and thyme. Roast for 3-4 minutes. You want the fillets medium. Remove to rest.
Reheat the asparagus spears in a butter emulsion.
Warm the potato puree and transfer to a squeeze bottle.
Warm the sauce.
Fry the breast fritters in a mix of oil and butter until golden brown and hot through.
Place a lettuce half cut side up on each plate with a little of the shallot. Drizzle potato puree around in a random, swirling pattern and add the drained asparagus. Slice the neck fillets and place on top of the lettuce. Drizzle a little sauce around each plate and finally add the fritters.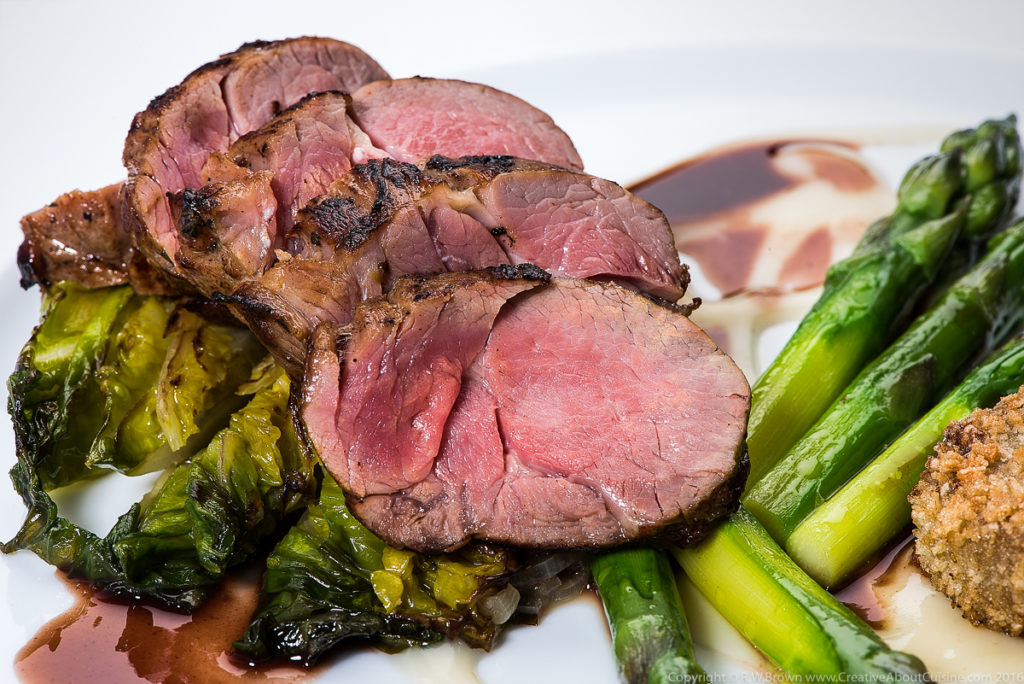 BELLAVITA – THE EXCELLENCE OF ITALY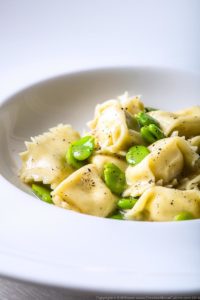 Many of you will know how much Italian food culture has influenced my cooking, I really appreciate the seasonality, simplicity and some of the iconic ingredients used. Pastas, risottos, Italian breads, superb cheese, charcuterie, the meal structure, simple desserts and the huge regional variation have all played their part in forming my ideas over the years. My cooking has become simpler and much more ingredient focused as time has progressed. It is hard to beat beautiful seasonal vegetables, a simply grilled piece of quality meat and perfect ripe fruit.
I did some judging at Bellavita last year, this showcase of Italian produce and cooking is held at the London business design centre, and it is a unique opportunity to explore a vast array of Italian food and wine as well as seeing demonstrations from chefs such as Theo randall, Genaro Contaldo and Francessco Mazzei.
Entrance is usually priced at £15-00 per ticket but there are 50 free tickets available for Creative about Cuisine readers using the code BELLAVITAMAG when you book via  http://www.bellavita.com/uncategorized/bellavita-expo-london-2016/ The code also allows you to book on any day wether you are a trade visitor or not.
Full details of the event can be found on the main website – click here
You can find one of my recipes on the Bellavita website here
I will be doing two demonstrations in the Plumbase live kitchen on April 14th at 2pm and 4pm in association with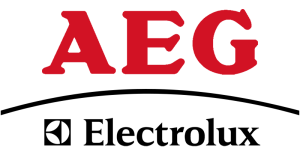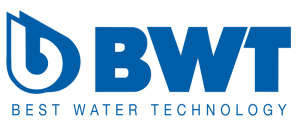 Dishes will include a roast loin of cod with Jersey royals and salsa verde and a simple but delicious chocolate mousse.
Contact Plumbase on 01308 428555 to reserve a place.

Old Laundry Trading Estate, Bridport DT6 3BD
Latest Blog
I've been thinking about this guest blog for the longest time. Russell first asked me to write something over a year ago. I didn't think many people would be interested in the machinations of a TV programme. Like making sausages, it's best left unexplored. But...
read more
Sign up to Russell's Newsletter!
Whether you have a passion for food, a desire to learn, are an industry professional, the owner of a catering business or a lover of writing and photography I hope my site is somewhere you will want to explore. Creative about Cuisine is a showcase for my consultancy, writing, teaching and photography. It is however much more than that! Diary dates for forthcoming events such as demonstrations and cookery courses, regular blogs not just by me but a fantastic collection of guest bloggers and video all feature. Make yourself a coffee or pour a glass of wine and take a look around, let me know your thoughts and I will do my best to make Creative about Cuisine somewhere to return to time and again.