Sabrina Ghayour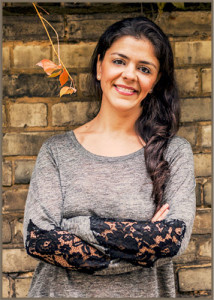 Named as one of the 'Rising Stars of 2014' by The Observer newspaper, Sabrina Ghayour is a self-taught cook and food writer who hosts the hugely popular 'Sabrina's Kitchen' supper club in various venues across London, renowned for Persian and Middle Eastern flavourful dishes.
Her debut cookbook 'Persiana – Recipes from the Middle East and beyond' published by Octopus (Mitchell Beazley) in May 2014 has become a bestseller and received critical acclaim for its simple and colourful recipes and striking design and photography. 'Persiana' demystifies Persian and Middle Eastern cuisine, making it accessible and easy to recreate the colourful, flavoursome dishes of the Middle East, at home. Sunday Times' Gizzi Erskine says "Sabrina Ghayour is a phenomenal Persian Chef" and Chef Raymond Blanc OBE says "Sabrina delivers Eastern promise in its delicious gastronomic form". The Observer names Sabrina as "The Golden Girl of Persian Cookery".
Her website sabrinaghayour.com and Twitter account @SabrinaGhayour  have become a 'go to' destination for Persian and Middle-Eastern recipes and ingredient wisdom. Her supper clubs have been featured in The Times, Evening Standard, Guardian, The Independent, The Telegraph and her recipes have been featured in Delicious Magazine, Sainsburys Magazine, Sunday Times, Metro, Guardian, BBC Good Food Magazine, Olive Magazine and Waitrose Kitchen Magazine.
Leading the trend in Persian and Middle Eastern cuisine, her past collaborations include hosting her own 'Passage to Persia' pop-up with Anna Hansen at the Modern Pantry with guest chefs Ben Spalding, Omar Allibhoy, Alexis Gauthier and Tim Anderson all cooking Persian food. Sabrina has also been regular guest Chef at Oliver Peyton's 'Friday Night Social' pop-ups at The National Gallery and more recently Middle Eastern Feast collaboration with Bruno Loubet at his second restaurant Grain Store.
Sabrina makes regular appearances doing cookery demonstrations at BBC Good Food Show, Taste of London and Jamie Oliver's The Big Feastival, as well as food festivals around the country. She is a seasoned cookery teacher, teaching Persian, Turkish, Moroccan, Georgian and Arabesque cookery classes at prestigious London cookery schools like Divertimenti and Leiths cookery schools, as well as teaching and catering for both corporate and private clients.
Specialising in cooking up colourful, moreish dishes with Eastern flavours in an abundant 'Mezze' style with unique recipes and techniques, Sabrina combines a creative use of ingredients with passion and flair to produce the kind of food that is not only vibrant and visual but nourishes the body and mind and always leaves you wanting more.